---
Bring the culture and beauty of South Africa to your home with these Fair Trade, hand painted candles.
Design Meaning: "Feruzi"symbolizes two oceans unite wildly and stormily at Cape Agulhas. The different colors of the Indian and Atlantic oceans mix in huge wave mountains. You can almost feel the fresh breeze and the salt on the skin.
Each candle measures ¾" diameter, 9" high plus ½" wick with a burn time up to 10 hours.
These globally-inspired hand-painted candles are small works of art. Crafted by artisans in South Africa, each candle is hand-poured and then individually hand-painted. Each design name is derived from a special African word that is brought to life through the color and patterns which reflect the culture and influences of South Africa.
The style images pictured illustrate the general design, but note that each candle is one of a kind.  A truly unique and beautiful gift for hostesses, housewarming, wedding, anniversary, and more that make a striking addition to every home and a beautiful conversation piece!
Fair Trade
Typical African colors, shapes and patterns are impressively presented.
H 9 x DIAM 0.5 in (H 23 x DIAM 2 cm) 
Unscented, high-quality, fully-refined paraffin wax from Germany.
Non-toxic color pigments and natural wicks.
Individually hand-painted. Designs will have differences, but will be consistent in colors and icons that reflect the style.
Creates a calm ambiance that transforms any space into a personal sanctuary.
Use care when burning candles. Do not leave a burning candle unattended; snuff out flame when done burning; do not move burning candle; always use a candle holder when burning. 
Ships from USA
The Story Behind the Art:
Each candle is hand poured and hand painted by South African artisans with years of experience. After the candles are poured, they are handed off to the special background painters, who paint the entire wax candle with a base color that sets the tone for the design work that comes next. Masterful artists then paint the designs on each piece. It is truly exciting to watch the lightening-fast strokes of the paintbrushes transform what was molten wax into gorgeously colorful, individualized works of art!
Meet the Artisans: Nobunto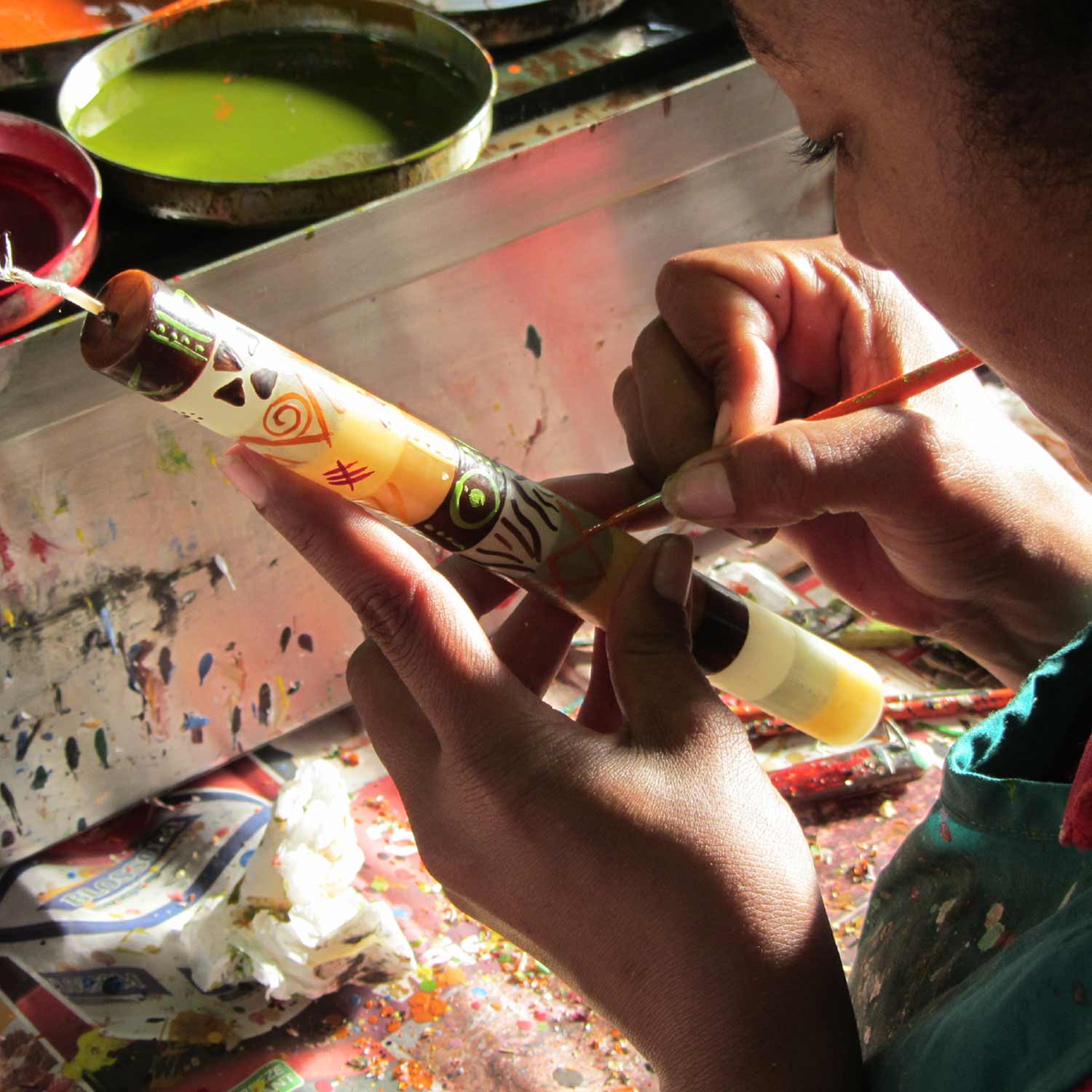 NOBUNTO is a South African Fair Trade company that creates high quality hand-painted candles, ceramics and handcrafted greeting cards with the utmost attention to detail using mainly African inspired designs. Their mission is, in a region with high unemployment, to alleviate poverty, not only through development of industry but to be socially, ethically, and sustainably responsible.
Based in the small village Napier, about 180 km east of Cape Town, NOBUNTO has provided employment to mostly woman of the disadvantaged community and guarantees an income for over 18 families. The unemployment rate in the area is in the region of 50%. The word NOBUNTO comes from the Sotho language, meaning "For the people".
---
Share this Product
---
More from this collection